Home » Products » Dissipative type D FIBC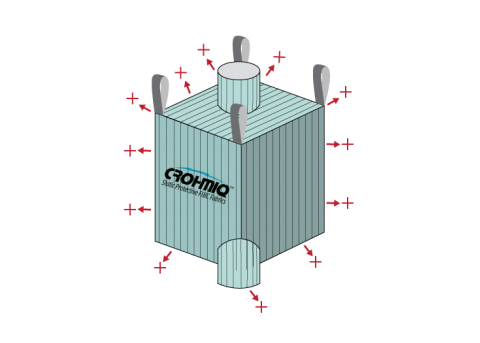 Dissipative type D FIBC
Our static protective, type D bulk bags securely lift and transport loads from 2,000 to 4,000 pounds. When you choose Golden Bridge Packing as your static protective FIBC bulk bag supplier, you'll get:



An outstanding safety record, with over 25 million CROHMIQTM type D bulk bags used since 1995.

Sturdy 4-Panel construction that features an enhanced square filling shape and independent panels that allow for safe stacking and transport.

Our sought-after baffled design that improves loading capacity, saves floor space and allows for secure stacking.

The option to customize your antistatic bulk bags for your precise storage, lifting and transport requirements, in addition to access to our large inventory of in-stock type D containers.

Standard U-Panel design that maximizes storage capacity while maintaining shape integrity.

Circular designs that are versatile at the most cost effective rate
MORE
A type "D" bag is constructed from static protective fabric that includes interwoven static dissipative threads and designed to prevent the occurrence of incendiary sparks, brush discharges and propagating brush discharges. Type D FIBC's do not require grounding.
Used safely to transport flammable powders

Used safely when flammable solvents or gases are present around the bag

DO NOT USE when the surface is contaminated or coated with conductive products such as water or grease.
Click: